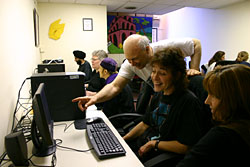 E.J. Gold with trainee Mary Donald and others at the Bardo Training Center

Personal Bardo Training
with E.J. Gold
E.J. Gold says that BARDO TRAINING is the most important work he has to do here -- to impart the ability to develop bardo habits that work, that are built in while you still have the ability to build them in, so that the "habits that carry you through" are good ones . . . .
In this training, you get a chance to see the habits that you have, that you use, day in and day out, that you may not want to continue to perpetuate if you want to travel successfully through the bardos.
E.J. Gold has identified some of the Benefits of Bardo Training
Cooperation
Attention
Sensing
Discernment
Handling panic/fear
Increased speed of decision making
Patience
Organization
Prioritization
Team value
Non-reliance on bodies
Learn typicalities
Transcend typicality
Sharing
Good communication skills
Courtesy
Leadership
Improve IQ
Hand-eye coordination
Advanced computer skills
Map-reading
Strategy
Life and gaming strategy
Psychic abilities
Apperception (Art of seeing many things at once, also known as multiple attention)
Precognition
Alacrity
Self observation
Compassion
Disidentification
Addressing problems sequentially
Extreme perception
Seeing ahead (seeing beyond the hood ornament)
Situation analysis
Conflict management
Operational strategy (clever, successful planning)
Team cooperation
Energy balance
Asset management ("smart assets")
Memory expansion
Communication skills
Defeating boredom
Alertness to threat, threat awareness & evaluation
Ambush awareness
Handling panic
Anger management
Values & priorities
How to work
and more, stay tuned
Getting Started
Bardo Training is totally accessible -- and easier to get started with than ever before.
Urthgame is now the home to dozens and dozens of Prosperity Path Remedies
In addition to the benefits listed on the right, Prosperity Path Remedies address specific conditions for the voyager.
To name a few:
49 Days
Fear
Become The Goddess You Are
Voyage in Parallel Worlds with Hadron Voyager
Heal My Pet
Karma Burn
Love
Memory
Prosperity (of every variety)
Protection (in all its forms)